Information for Prospective Students
The Astrophysics Laboratory at Hokkaido University is always supportive of students wanting to become involved in the discipline. If you are a student who is interested in studying with us, there are a number of things you might want to consider.
This page is designed to help you access the information which can make your enrolment a less stressful and more streamlined process.
Entry Pathways
In our theoretical astrophysics research group there are 3 types of student positions available. These include two kinds of graduate studentships: PhD (Doctoral) and Masters; and undergraduate students undertaking their final year projects. It is possible to join us at any of these levels, although the entry requirements for each type of student are very different. However, for students who are not already studying at Hokkaido University in the Undergraduate degree program, it is only possible to enter at either Masters or PhD level.
If you are interested in joining us, please consider the entry information appropriate to your level as indicated below. Some general information for all applicants in included in the following section, along with links to more detailed instructions.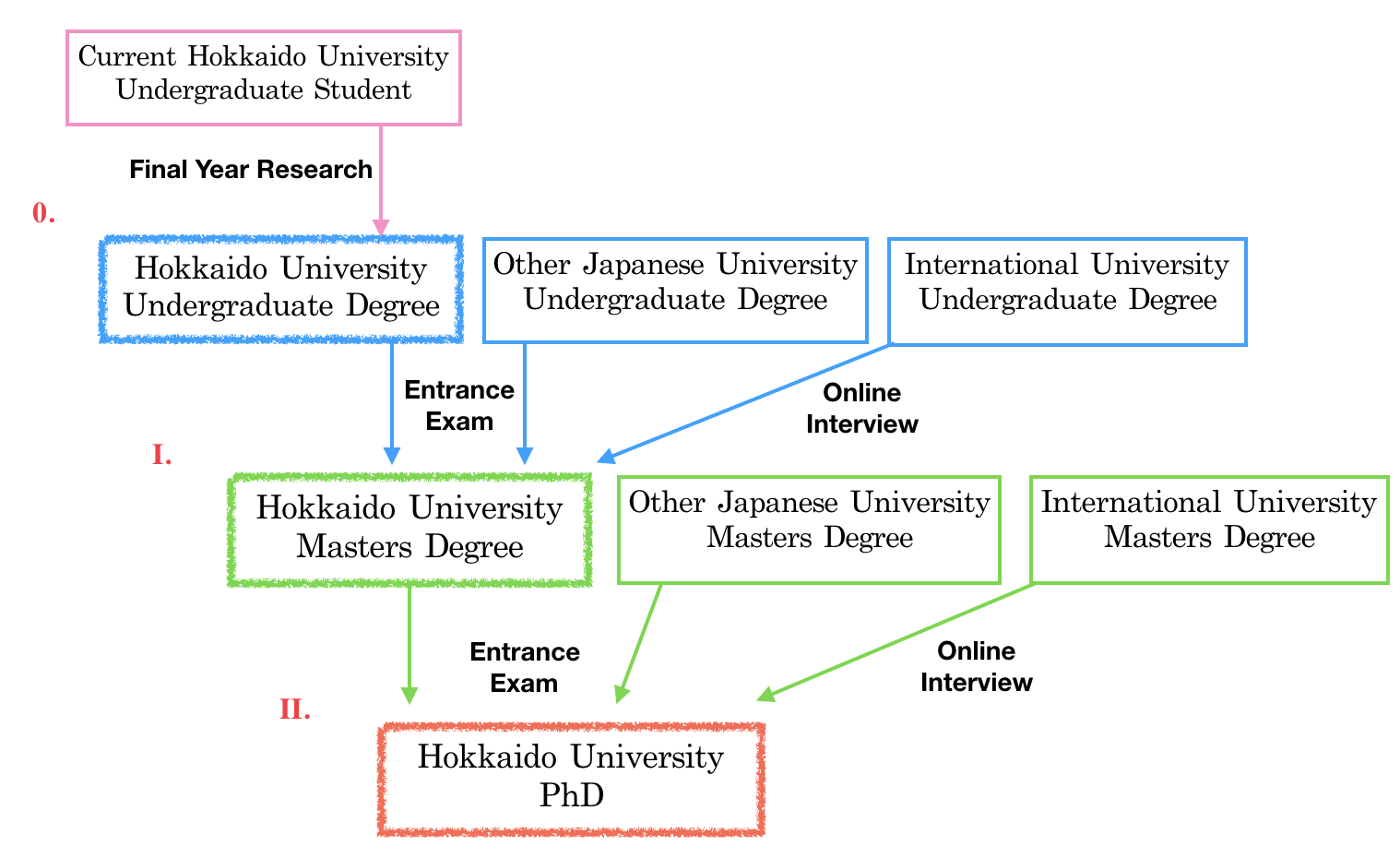 Entry Point 0: Apply for a position with our laboratory as part of your final year undergraduate curriculum.
Applicable to: current Hokkaido University undergraduate students or an interested High School student planning to enter the Hokkaido University Undergraduate program in the future.
Entry Point I: Apply for the Hokkaido University Master's Course in Science.
Applicable to: students that have already graduated or expect to graduate from an undergraduate degree in time for the Master's course commencement.
Entry Point II: Apply for a PhD at Hokkaido University.
Applicable to: students that have already graduated or expect to graduate from an Master's degree in time for the PhD course commencement.
How to Apply?
International Applicants:
International applicants wishing to join our research group have two very different methods for application. Please consider the information below to identify which method of application will suit your individual requirements.
For Students Who Require Financial Support:
Please be aware, if you are hoping to receive/require funding to study at the University of Hokkaido, university level scholarships are incredibly rare.
If you cannot or do not wish to support yourself completely during your studies, it is best if you apply to join our Astrophysics Laboratory via the MEXT Scholarship Program. However, the application process for this program is long – start looking for details approx. 18 months before you wish to commence your studies at Hokkaido University. The application time window is small and only occurs once/twice a year depending on the Japanese Embassy in your country.
For more information on this scholarship and how you can receive it, it is best to consult your local Japanese Embassy here. Each country's embassy handles the screening of applicants and have different processes. Make sure you follow the specific instructions for your embassy.
Additionally, please be aware that applying through the MEXT Scholarship process requires you to first be granted provisional approval for the scholarship by MEXT before you contact any potential supervisors.
In addition to this Embassy Recommendation route, MEXT also provides Hokkaido University with a small number of University Recommendation positions, whereby they effectively nominate outstanding applicants to MEXT for approval instead of the embassy. However, this is even more competitive than the already over-subscribed embassy route, and so potential applicants are advised to primarily focus on the embassy recommendation (all of our previous MEXT funded students have been selected via this route).
Some additional details on funding can be found on the University's scholarships page.
For Self-Funded Students:
Students who are prepared to pay all fees and living expenses by themselves for the duration of their degree need not being the application process so early. It is recommended by the university that they begin this process only approx. 6 months before they wish to commence their studies.
Please be aware, however, that the dates listed above in no way take into account the time-frames needed for visa application and processing in the applicant's home country, which should also be factored into their application timeline accordingly.
Domestic Applicants:
Students who are already enrolled in studies at Hokkaido University should follow the instructions of their course co-ordinators for methods of advancing through the higher degree by research systems. If you are unsure how to do this, you can also ask your class teachers or contact a potential supervisor from the list of academic staff (see People) to arrange a time to discuss your future plans.
If you are a domestic student but studying at a different Japanese university. It is recommended that you consider the information on the Graduate School of Science's webpage here. You may also wish to contact your potential supervisor (see People) via email to confirm that they are accepting students in the period you wish to apply.
Potential Supervisors
An important step in graduate admissions is to consider the research interests of our staff (see People). Then, to contact the member whose interests align most closely with yours and ask whether they are currently accepting students. This can be done via email or in person if you happen to be in Hokkaido. If you plan to visit in person, please remember that our staff are busy and may not have time to see you, so it is still a good idea to contact them via email first.
If your prospective supervisor is interested in taking you on as their student, they will probably give you further instruction on what you need to do to complete your enrolment. It is a good idea to read through the information from the Office for International Academic Support in the Faculty of Science in advance of contacting your potential supervisor (OIAS Prospective Students), which will have the most up-to-date information regarding deadlines and procedures. While your potential supervisor will endeavour to assist you in every way they can, it is ultimately the task of the student to ensure their application is submitted in a correct and timely manner.

Useful Links
General Graduate School Information: Graduate School of Science
Information specifically for international students/staff: Office for International Academic Support
Potential Supervisors in our lab: People
For potential MEXT Scholarships: Japanese Embassy